Wyniki wyzwania oraz minialbumik
Bardzo dziękujemy za udział w naszym pierwszym blogowym wyzwaniu – wszystkie prace są piękne i naprawdę trudno było wybrać tę jedną jedyną. Nad wyborem zwyciężczyni głosował nasz Design Team. Głosy rozkładały się bardzo równo 🙂 ale udało się ustalić, kto wygrał 🙂 Zwycięska praca została wykonana przez Em Stafrace! Gratulujemy!!
Na blogu Em możecie obejrzeć więcej wspaniałych inspiracji wykonanych z kolekcji Dreamer.
Em – jeszcze raz gratulujemy i prosimy o kontakt mailowy tusia (at) 7dotsstudio.com – we will send you a package of complete Dreamer and Elise Rebel collection.
Chciałabym wyróżnić jeszcze jedną osobę – Tores, która przygotowała dwa wspaniałe scrapy, wykonane z kolekcji Elise Rebel. Spójrzcie, jak Tores fantastycznie zgrała ze sobą kolory zdjęć i kolekcji Elise Rebel!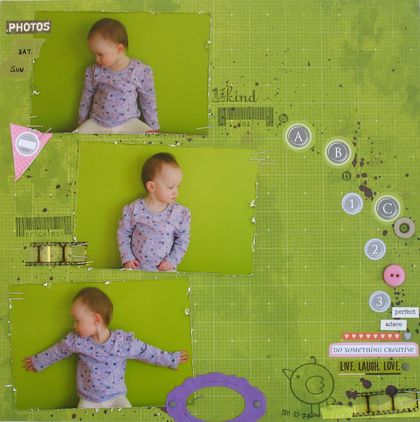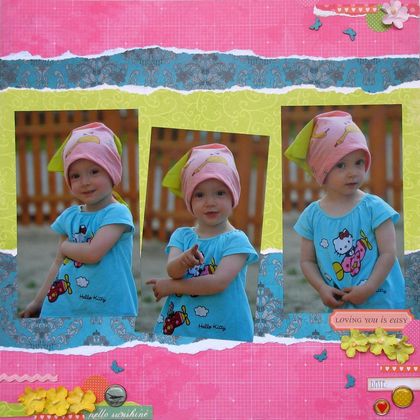 Nagrodą dla Tores jest kompletna kolekcja Elise Rebel.
Raz jeszcze dziękujemy wszystkim za piękne prace i zapraszamy już wkrótce na kolejne wyzwanie!
Uściski, Tusia
* * *
A teraz chciałybyśmy pokazać Wam kolejną inspirację – tym razem mały albumik ubrany w kolekcję "Elise Rebel" oraz farby, skrawki i drobiazgi – słowem cała Mumkaa!
Mumkaa pisze:
Zdjęcia z tego albumu czekały naprawdę dłuuugo na swoją albumową oprawę. Spośród całej sesji wybrałam 4 zdjęcia, które z różnych powodów lubię najbardziej.  Powstał więc swoisty minialbum – tym razem jest minimalnie pod względem ilości zdjęć i treści. Za to – żeby równowaga jako tako została zachowana 😉 – starałam się zawrzeć z nim maksymalną ilość energii – w kolorze i w środkach wyrazu. Kolekcja Elise Rebel bardzo ułatwiła mi to zadanie – album robił się praktycznie sam, wszystko bardzo fajnie się ze sobą łączyło – pracę nad tym albumem wspominam jako naprawdę świetną zabawę 🙂 Album ma wymiary ok 11×22 cm.